This image is just being released by LeAnn's World 101 and I was excited to colour this easter image. The image is called Daisy's First Easter. I thought this little lady is so cute. I am making about 20 Easter cards for family and she is just perfect for the little girls.
Join us on Facebook to view the inspiring cards that our talented design team has created to inspire you and to see the new releases. You can find us on Facebook here
https://www.facebook.com/groups/1836531013324656/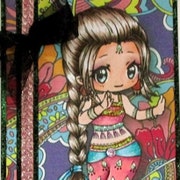 Thanks for stopping by and have a creative week.